Company Formation

Company Services

Offshore Formation

Business Library

Related Services

Reviews
Having already started and been somewhat baffled by the Companies House registration process, using your site was a breeze. All the extras (registration & service address, VAT) were useful and well-priced.
Matthew Cross
Aston Complete Services Ltd
13/05/2013

I was totally surprised by the ease to get my company. It is a fantastic service. Thank you
Sharon Dagcioglu
Spirit of Excellence Security
10/05/2013

Totally painless company formation. Quick, simple and efficient.
P Beswick
P A Beswick & Associates Ltd
02/05/2013

Very quick and simple to use
M Davies
Tidycar Services Ltd
26/04/2013

Excellent, hassle-free service many thanks.
Peter Ryder
Red Year Associates Ltd
26/04/2013

Excellent customer service! Representatives were quick to answer my queries. Highly recommended!
Sergei Alexeev
Londongrad Trading LTD
24/04/2013

Keep doing what you are doing..
Paul Duncan
Siebermann UK Ltd
19/04/2013

Your website is excellent and very informative
Bridget Harvey
West End Tavern Ltd
16/04/2013

Fantastic service - if only everything in business were this simple, fast and effective.
Shaun Parkes
Infraskill Limited
22/03/2013

Brilliant person spoke using your messenger service. Really nice and didn't sound annoyed at my lack of knowledge. Perfect service
Genna A'court
Cinnamon
20/03/2013

Excellent so far. Thank you
Janet Delves
Clover Properties Ltd
18/03/2013

Does exactly what it says on the tin! Highly Recommended
Steve Barlow
Out of the Blue Associates Ltd
13/03/2013

Excellent service
Sherandra Seetharamdoo
Natural health sciences foundation
08/03/2013

Extremely supportive on any questions raised, no matter how naive!
S A Grindrod
SGR Resource
7/03/2013

Easy to use and good price - no improvements needed
Joanna Scanlon
JLS & Co Accountants Limited
01/03/2013

Easy to understand and simple to use would happily recommend
Matt piper
WorkShyBob ltd
15/02/2013

Excellent service, questions promptly answered.
Matt Jones
Beetime
05/02/2013

I'm very satisfied with your services.
David Netolicky
PEXOW Ltd.
14/01/2013

Excellent service and a simple process, not sure how it would be possible to improve.
Paul Catherall
Reliance Control Ltd
15/12/2012

Very impressed at the simplicity of the process
Robin Lawrenson
Tamaver Ltd
29/11/2012

Brilliant website & service. I have been looking for days on Google for a reliable company who could advice me quickly and with efficiency. And i found you :)
Philippe
Hatch And C.
06/11/2012

Absolutely the best help I've had yet. Don't know what I would have done without you guys. Big Thanks!!
Scott Bullock
Advanced Rural LTD
11/10/2012

So simple and quick thank you
Paul Simmons
PCS CONTRACTORS LTD
01/10/2012 Very easy and straightforward process and good clear website.
David Adair
Adair Media
27/09/2012
A quick and efficient service.
Mr Ahmed
The Tax Practice
26/09/2012
Great service and incredible value for money compared to your competitors. Thank you for the smooth and swift registration and all of the additional benefits!
John Duggan
Events Protocol Ltd.
21/09/2012
Excellent service and I have recommended Companies Made Simple to many business associates already.
Carrie Colliss
The Lady Golfer Club Ltd
19/09/2012
Great, efficient and professional service. Many thanks.
Daphne Shepherd
Broomhill Farm Luxury Dog Hotel
10/08/2012
Very clear website and easy transaction. I would recommend you to anyone.
Julian Eagles
Aquila & Company Limited
03/08/2012
This was the first company I have set up and I can't believe how easy it was. I shall certainly recommend you to colleagues. Thank you.
Trevor Richards
Eastern Management & Training Ltd
15/08/2012
Excellent Service everytime with no fuss just what we all need. Thanks
Helen Lilley
Total Accounts Ltd
27/07/2012

Straight forward, clear, concise and easy to use.
Andy McCobb
Andy McCobb Consulting Ltd
25/07/2012

Excellent services receive cannot complain
Thomas
Thomas and sons consulting Ltd
04/05/2012

Excellent clear and concise and well executed service
JAMES G SUTHERLAND
JGS CONSULTANCY SERVICES INC LIMITED
04/05/2012

It was kept as simple as possible perfect
Bob Brown
Bike-Mekanix
02/05/2012

Excellent service and have already used it to set up a LLP for a client
Stuart Rook
RookFD Ltd
27/03/2012

A very simple and easy process. Thank you
Steven Gower
Regency Recruitment Agency Ltd
25/03/2012

You are my preferred supplier when forming companies for my clients. Very quick and simple which means I am able to offer a good value service to my clients. Thank you
Richard Wilson
RAK Accountancy Solutions Ltd
23/03/2012

I didn't know anything about forming my limited company, you made it easy thankyou
Shirley Fenner
Fennbrow
22/03/2012

All l need to say is well done and carry on thanks,
Ms modupe Adedigba
aicszm associates ltd
21/03/2012

It couldn't have been simpler. The web site is so easy to navigate and the whole process took no more than 10 minutes.
Keith Chamberlain
Urban Mover Eco Ltd
20/03/2012

Very efficient, easy to navigate website & ordering, great value for money.
Teresa Pink
Cocoon (UK) Ltd
16/03/2012

The registration process was made very understandable and easy to use.
David Bennett
NYE Electrical Ltd
14/03/2012

This is the third company I've set up, but the first time I have used you guys. So much easier, I'll never bother trying to do it myself again - so simple.
Chris Moore
Hexchem Imports ltd
14/03/2012

Fantastic service, originally came to compare prices to another company like yourselves, your prices we're just fantastic so ordered same day!
Daniel Perry
Grab The Music Limited
12/03/2012

Everything is great, the FAQ was very helpful. I am really looking forward to start trading as Blue Owl Pictures!
Zaira Brilhante
Blue Owl Pictures
07/03/2012

Fantastic service very fast very efficient. Would recommend Companies Made Simple.
Peter Coates-Buglear
Data Centre South
05/03/2012

Just keep up the excellent serices. It's very encouraging for new businesses and developing new opportunities !
KHAMISA VAYANI
VAYANI LTD
02/03/2012

Can't fault it.
Esther Emmanuel
01/03/2012

A very easy and swift process of registering a company.
Alexandros Ioannides
AI & PARTNERS LTD
01/03/2012

Really simple - much easier than I expected!!
Stephanie Carswell
Abbey Language Ltd
29/02/2012

Great Service really easy to use
Lisa Clubb
Optimum Dry Wall Ltd
28/02/2012

Everything was very simple and easy to understand. You are doing a very good job with the site. Keep up the good work!
Stefan Aris Savulescu
Aris Construction and Decoration Limited
27/02/2012

Thank you for the promt/effective service. I also made a mistake and the online chat (mark) resolved my question within 2 minutes...THANKS
Sophie
After You...
27/02/2012

Made Simple Group do exactly what it says on the label! Couldn't of asked for better service!
Matthew
MB Media LTD
24/02/2012

I have already registered a company with you before and remembered how easy it was. Although I had felt nervous I was soon put at ease by the way in which you had made everything so straight forward. I hope my second company is as successful.
Iman Abdullah
SOIM
23/02/2012

Really great service, very simple and easy to use. So much less painful a process than I was expecting! Overall a fantastic product.
Andrew Ford
Crazy Raising Ltd
22/02/2012

Quick, efficient and easy to use, great service, keep up the good work!
Jason Legget
Make Sense Matter Ltd
21/02/2012

The fact that you also offer virtual office services makes you a genuine one-stop shop. To be able to come to one company and get absolutely everything set-up is invaluable.
Helen Rideout
Savvy HR Limited
20/02/2012

Keep the good work up.
Tosin Adekunle
Solucity Oil and Gas
19/02/2012

Clear, concise and efficient.
Paul Lewis
Incredible Picture Company
19/02/2012

Excellent Service - Easy to Use!
Jo Crofts
Psychology Works (UK) Ltd
16/02/2012

Everything was explained very clearly and enabled us to clarify any last minute concerns before registering out business.
Sarah Forson
A F Pumbing & Heating Ltd
12/02/2012

Website is very easy to navigate and process is very smooth.
Andrena Miles
AMM Bookkeeping & Accountancy
10/02/2012

I cannot fault it.
Kishan Gahunia
Only Law Limited
08/02/2012

What an easy to follow website! I was so nervous about taking the first steps and opening a company when I didn't have to worry at all, so easy to follow and great value!
Heidi Burrell
Heidi's tea and tiffin
07/02/2012

Very Quick process easy to understand perfect! Thank you
michael buxton
M.B Building & Decorating Services
06/02/2012

Great service and detailed information provided on website
kashif javaid
Secure Workforce Ltd
05/02/2012

I was very impressed to see that the signup process for creating a UK company was laid out in a nice simple and informative manner with the prices being very clear. I also liked the options at checkout to purchase additional services and upgrades, this helped quite alot when deciding what to add. Also very nice was the small question mark icons giving some additional information about the parts of the application process.
Craig Edmonds
High Speed Web Services LLC
01/02/2012

I use the services frequently and have formed more than 40 companies. The packages are value for money.
Zulfiqar Hussain
Ashfields
01/02/2012

Found this very simple, straightforward and easy to follow. Definitely GOOD VALUE for Money - Thank you.
Felicia Ansah
The Adelphian Consultancy
30/01/2012

This is the fourth time i have used your service and continue to will the service for any future ventures that come my way.
steve streek
streek installations 2012 ltd
28/01/2012

Easy to form company and great value packages. I looked at many websites offering this service and choose this one for value and services offered.
Ms Lanning
Ginnal Creatives Ltd
26/01/2012

I have formed a number of Limited Companies for myself and colleagues and I am very pleased with the prompt professional service.
Paul Carton
120 Consulting Ltd
25/01/2012

The Website was brilliant I looked at others but kept going back to this one, Not only simple to use {even for me} but very pleasent correspondence. Many thanks.
Janette Brain
Afternoon Tea Dear?
22/01/2012

Very easy great service
Mr Paul Robertson
Vital Business Support
19/01/2012

Thank for your help and efficiency in starting my business. I will recommend you to anyone needed.
Anca Maria Cesar
Vintage Zizou
18/01/2012

Excellent Service, thank you.
Asit Sharma
Midas Touch Limited
17/01/2012

Very Impressed with this service which made registering my first company feel so simple. Will definitely recommend to others!
Rahim Tahir
Pisces Trading Ltd
16/01/2012

I really didn't think it would be that simple. The application was a very intuitive and reassuring process. Well done.
Ken Bainbridge
Future Pro USA Ltd
16/01/2012

I am impressed with your service! simple as that!
Silvio Rodrigues
The Modulor Ltd
15/01/2012

Thank you for a great easy to use service!
Shane Manaton
Carbon Pixel
12/01/2012

First Class service
Richard Campbell
Enerlight Ltd
10/01/2012

Excellent service - really quick and easy
Lee-ann Wallace
Wallace Bathroom Studios
09/01/2012

Great company. Easy to use. Won't use anyone else!
Joe Bartle
Autoangel Ltd
07/01/2012

It was most easy to use and surprised me how simple is to form a company!
Janis
Elzard Technologies
06/01/2012

Easy to use Thank You
Paul Beckwith Bennett
Financial Ambitions (2012) Co Ltd
05/01/2012

A cost effective and easy to use tool to help get your business registered and ready to go
Gemma Dale
Sky Blue Careers
29/12/2011

I love your service, it was fast and very easy... no bad comments! WELL DONE!
DAVID YOUNG (DIRECTOR)
SPECTRUM GIFTWARE LIMITED
23/12/2011

Thank you for everything please keep up excellent work and services.
h.ibrahim unsal
pentagon business consultancy
17/12/2011

Keep it Simple! Use Companies made Simple...
Michelle Newton
MAAT Agencies Limited
16/12/2011

Excellent Service! Simple Setup! Best Company I Have Found!! Ordered at 12:28 formed at 14:16! Excellent!
Daniel Marsden
Vudex UK Limited
15/12/2011

I'm amazed how quick and easy it was to set up my company. You offer a great service. Ten out of ten!
Stuart Flack
Wintertime Ltd
12/12/2011

Great service!
Ashish Mehra
Trabblr LTD
08/12/2011

Great service, always use your company for setting up companies for my clients and will continue to do so. Great prices too!
David Gardiner
Business Partners
06/12/2011

I've used you to set up circa 10 companies now and it does exactly what it says on the tin. 5*
Anthony Smith
Anthony Smith & Co.
02/12/2011

It is an excellent easy to use service!
alastair mcnulty
zeissmann kuchen gmbh
23/11/2011

Very simple and quick procedure, well designed site.
Carl Hobson
Cloudbase Computing
22/11/2011

I found all the information I needed and completed my transaction with out the need to ask for any help.
Brian Hartles
Future Renewable Solutions Limited
21/11/2011

How does one improve excellence?
Victor Powys
BizMex Ltd
21/11/2011

Your user-friendly, well informed website makes setting up a company easy; everything you could possible need including FAQs is at a touch of a button or mouse. And you can talk to someone if you need too.
Helen Bailey
Options of Yorkshire Limited
18/11/2011

The service for starting a new company was kept as simple as it could possibly be, much better than I anticipated. A very efficient service, thanks.
Paul Coleman
VICJON Ltd
17/11/2011

Simple, effective, well executed. Like evey good business should be!
BAZZINGA Ltd
15/11/2011

Amazing service!
Farhan
Shakestar
14/11/2011

Thank you for the fast and easy service
Ilhan Unsal
a1 print solutions ltd
09/11/2011

Very easy to understand process which is quick and informative. Guidelines and tools for totally new business owners are exceptional.
Esau
Team Leverage Ltd
08/11/2011

Keep the good work up.
Ken Gbadegesin
Bamet Konsult
04/11/2011

The services are excellent and so fast.
Fathy Mirzaeian
Madino Film
01/11/2011

A very straightforward and easy to follow process, backed by a simple, clean and clear style. A pleasure to use.
Daniel Gilberthorpe
RGMT Consulting Ltd
31/10/2011

Companies Made Simple does exactly what it says on the tin. Excellent customer service for both start ups and existing companies.
Dr Heidi Kharbhih
Optimise Your Business Ltd
28/10/2011

Simply Great....
Asif Sulaiman
Bravo Consultant
24/10/2011

Excellent service - very good and very clear.
Aidan Gray
Hum London
24/10/2011

There is only one way to describe the process of forming a company through Companies Made Simple - Child's play! So quick and easy I had to check with Companies House to confirm my company had been formed... It was 09:37 on Monday morning!
Toby Heywood
Ticura Ltd
19/10/2011

Superb!
Andrew Ripley
A P Ripley & Co
18/10/2011

Fantastic. First time I've formed a company, I found your site full of useful information that was easy to understand. I had a couple of queries, your online chat person (Billie S) was very helpful and answered them for me.
Eric Yeoman
Crumala Ltd
17/10/2011

So far you seem to offer help before I actually knew I needed it. Very helpful.
Graham Roughley
GR Quality Services Ltd
15/10/2011

Perfect as it is, simple, straight forward & value for money in challenging times.
Yashwant N Patel
J9V LTD
12/10/2011

The site is really great, no improvements necessary!
Annie Clarke
CBS
06/10/2011

It's a pleasure to set up a business with you once again.
mr a rahman
al bayyinah cars ltd
28/09/2011

Very Straight forward and easy to follow
Anthony Bolye
Vehicle Access Services 2009 Ltd
27/09/2011

I think everything is perfect ;)
Josef Lobotka
Six directions ltd
29/09/2011

Very Straight forward and easy to follow
Anthony Bolye
Vehicle Access Services 2009 Ltd
27/09/2011

An excellent service, very quick, clear and efficient, I would definitely recommend your service to others
Marie Smith
M P Esoterics
26/09/2011

I found your service to be exactly what I was looking for, excelent website format with simple easy to understand and follow instructions. Thanks, you made it so simple..
Alan Phillips
Solar Switch Midlands Limited
24/09/2011

Simple excellent service. Does what it says on the label.
Alan Maskell
Maxinnovation ltd
22/09/2011

Clear concise and efficient service
Peter Williams
pala consulting
16/09/2011

Very happy with the service as it is
Paul Harris
paul harris road services ltd
19/08/2011

Easy to use, straight forward and every (so far) has been delivered as promised, promptly. Excellent service.
Alison Booker
Andalusite Ltd
12/08/2011

Brilliant service. Don't look anywhere else to set up your own limited company!
Arvydas Juskevicius
Agile Innovative Ltd
12/08/2011


I was surprised by how simple the whole process was.
Jane Porter
Skin Wisdom
11/08/2011

Quick and simple service and great value for money.
Niclola Welch
JPH GLOBAL FORWARDING LTD
10/08/2011

Excellent service thank you
M Lannon
lan recruitment ltd
09/08/2011

I have formed my first company and in all honesty, with the limited knowledge I had in the field, not only did you guys make it so simple but I also learned a lot along the way. Thank you!
Jaffar Khorshidi
User Experience Bureau Ltd.
08/08/2011

Very Happy customer - Highly recommend. Simple and seamless.
Adam Brooks
Applying You Ltd
06/08/2011

Highly efficient, cost effective and painless company formation - great!
Shaun Waterman
New Criteria Limited
03/08/2011

Simple and easy to follow
Wayne Allen
Office Wiseguys
03/08/2011

Great website, easy to follow and use.
Robert Smith
Solve IT Simply LTD
02/08/2011

Everything was excellent and clearly displayed, I couldn't find a single fault with the whole process!
Sam Bondarenko
Gup73 Ltd
01/08/2011

Straightforward online forms and thoroughly professional service
Mike Harley
Ardgour Resources Ltd
29/07/2011

The process was nice and easy to follow
Ron Cox
Tiscox Limited
28/07/2011

Your site made it incredibly simply to register. Many thanks
Phil Dwyer
Destanza
28/07/2011
Blog - Latest articles
Companies House £13 incorporation fee included in all Company Formation Packages
Each and every one of our company formation packages includes the £13 Companies House incorporation fee as part of the quoted price. In fact, if any our services require a Companies House fee we'll include said fee in our price. … Continue reading → Read more...
How do I resign members in a Limited by Guarantee company?
Companies House don't care if members in your Limited by Guarantee company resign. This is an internal matter for the company that Companies House do not need to be notified of. You can record and file meeting minutes detailing the … Continue reading → Read more...
5 reasons why you would hate Fergie as your office manager
On Sunday, Old Trafford bade farewell to Sir Alex Ferguson, the charismatic Scotsman who has managed Manchester United for 26 years. This was the man who led United to 13 Premier League titles, 2 Champions League trophies and 5 FA … Continue reading → Read more...
How can I change a Director's Name?
You should notify Companies House if a company director changes their name. If your company is on our system you can do this by: 1. Logging in to Companies Made Simple 2. Selecting "My Companies" 3. Clicking on the relevant … Continue reading → Read more...
What is a dormant company?
Companies House say it best: "A company is dormant if it has had no 'significant accounting transactions' during the accounting period. A significant accounting transaction is one which the company should enter in its accounting records. When determining whether a … Continue reading → Read more...
CT41G New Company Details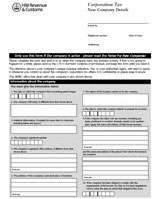 What is form CT41G?
Form CT41G was sent to every new company and was used to apprise HM Revenue & Customs of their company details and when they intend to start their business activities. The form needed to be sent to HMRC within 3 months of the company starting its first accounting period.
When will I receive form CT41G?
HM Revenue & Customs no longer send out form CT41G. Instead, you will receive a letter from them advising you to register online on their website.
As HMRC no longer use this form, we no longer offer the assistance service.