It's very easy to add new shares
If you wish to add new shares to the company once it has been formed, you'll need to complete and file the SH01 – Return of Allotment of Shares document. If your company is on our system (if it's not, the document needs to be completed and sent as per the instructions found on it), simply:
• Select Return of Allotment of Shares from your company admin page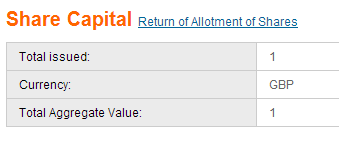 • Enter the number of new shares that you wish to add and select Submit

The request is then sent to Companies House who normally processes it within 3 working hours. Continue reading →

When forming a limited company you need to choose how many shares to allocate to your shareholders. The number of shares that you allocate multiplied by the value of these shares makes up the company's share capital.