Companies Act 2006 - New Articles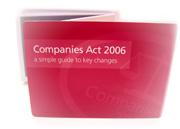 October 1st 2009 saw the remaining sections of the Companies Act 2006 being implemented.
All new companies formed after the 1st of October 2009 now include the new model articles. However, companies formed prior to 1st October 2009 do not have the new model articles and are therefore advised to adopt them.
Why should I adopt new articles?
Ensure your company Articles reflect current law.
Take advantage of any new laws which do not automatically apply.
Avoid confusion and uncertainty relating to your Articles.
Take advantage of modernising provisions of the new Articles.
Prevent your company from appearing out of date.
Frequently Asked Questions (FAQs)
What you will receive:
New model articles
Board minutes
Written resolution of members
Special resolution
Sample documents to help you
Clear step by step instructions
The Department for Business Innovation and Skills has published detailed documentation relating to the new model articles including:-
Important: By purchasing this product you automatically sign up to the "new article of associations" terms and conditions.
New 2006 Articles of Association
£20


Buy the new model articles of association updated for the Companies Act 2006.
IMPORTANT: This product is only for companies formed before October 1st 2009.