Company formation white label for professionals. Our formation process can be totally branded as your own at prices that you set.
Customise
Customise to suit your branding, change the colour scheme and add your logo. Our name is never mentioned, so your clients will think the whole formation process is yours. The URL is customisable too; we'll just add formnewco.com at the end
(e.g. yourcompanyname.formnewco.com).

To view an example of our White label click here!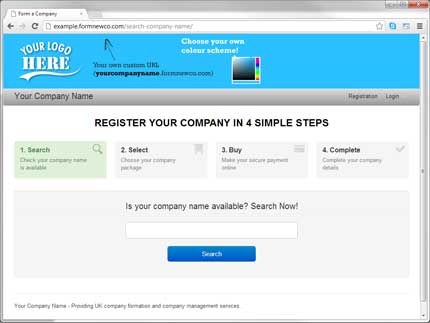 Set Your Own Pricing
We have three standard company formation packages that you can set the pricing for. We set our base price as £19, £29 and £49 which we'll give you 10% commission on and whatever you choose to mark the prices up to will be all your profit.
We Pay YOU!
We pay all commission plus mark-up each month into your bank account.
Completely Private
Use our software as your own. Companies Made Simple is never mentioned throughout the process and not even mentioned during billing.
Step 2
Once you have registered you will need to login from your custom domain (top right of screen) to continue the customisation and setup process.