Choose the Perfect Package for You and
Start Your New Company Today
Simply choose from the packages below or use these resources to help you decide:
Included in ALL Our Packages
Basic
Package
Printed
Package
Privacy
Package
Comprehensive
Package
Ultimate
Package
"Great choice if you
want to reserve a
company name for
future use or form a
dormant company"
"Perfect to get you
trading quickly-
everything you need
to maintain your
statutory records by
email and in the post"
"When your business needs a prestigious address and you want to protect the privacy of your home address"
"Every feature you'll
need to start trading
immediately and
ensure your statutory
requirements are
covered"
"Every feature you'll
need for a truly virtual
presence"
£50-£75 Cash Back with
Business Bank Account
£50
£50
£55
£65
£75
FREE Lifetime Company
Support
Online Admin Portal to
Manage Your Companies
No Complicated Paperwork
to Complete
Ready to Trade Company -
Limited by Shares
Companies House £15
Fee Included in Price
All Your Official Company
Setup Documents by Email
PLUS FREE Business
Startup Toolkit (see below)
What You Get In Each Of Our Packages
Digital Certificate of
Incorporation
Digital Share Certificates
Digital Memorandum
& Articles of Association
Printed Certificate of
Incorporation
Printed Share Certificates
Maintenance of Statutory
Books
Prestigious Registered Office
Address - London N1
Service Address – keep your residential address private
Annual Return
(Preparation & Filing)
Bound Memorandum
& Article of Association
Tax and Financial
Strategies Guide
Virtual Office Mail
Forwarding
VAT Registration with
HMRC
Basic
Package
Printed
Package
Most Popular
Privacy
Package
Comprehensive
Package
Ultimate
Package

Included in All of Our Packages:
Free Business Start Up Toolkit - Everything You
Need to Start, Run & Grow Your New Company.
FREE Business Bank Account

with £50-£75 Cash Back (Optional)

FREE .co.uk website plus more...

Free 1 year domain name includes free email address, 1-page website and professional stock images.

Google Adwords Voucher

Get your business in front of millions of potential customers.

FREE Accountancy & Tax Consultation

(UK Customers Only)

 

Exclusive 2-Month FREE Trial to FreeAgent's

Award Winning Online Accounting Tool for Small Businesses. Plus you get 10% discount on the monthly subscription for 12 months after the free trial ends. FreeAgent is easy-to-use and you won't need any previous accounts experience to start using it.

FREE Ultimate Small Business Startup eBook

Everything you need to know to start, run and grow your new business
Frequently Asked Questions
Do I need to provide proof of ID?
No if you are buying the Basic or Printed company formation packages.

Yes if you are buying the registered office/service address service (Privacy, Comprehensive and Ultimate company formation packages). In this case we are required by law to hold proof of ID and proof of address.

We have a legal obligation to check proof of ID and proof of address for all customers who use our address services. This is to ensure we comply with Anti-Money Laundering (AML) regulations and Know Your Customer (KYC) requirements. For which documents you need to provide us please check the FAQs.
Will I still need an accountant?
For certain tasks we do recommend that you use an accountant. This is why we offer a free consultation with a local TaxAssist accountant once your company has been formed.

We provide you with lots of inclusive services and tools to keep accounting costs down.

All of our packages include a free 2-month trial to FreeAgent, easy-to-use small business accounting software that helps keep you on top of all your business finances. Our Comprehensive and Ultimate Packages take care of some of the things that your accountant would normally do, such as preparing and filing your company's Annual Return. With the Ultimate Package we'll also register your company for VAT with HMRC.

Less work for your accountant equals lower fees for you.
Is there a renewal cost annually?
This depends on the package that you choose.

The Privacy Package has an annual renewal cost of £59.99, only applicable if you want to continue using our Registered Office and Service Address to keep your residential address confidential and off Companies House public register.

The Comprehensive and Ultimate packages have an annual renewal cost of £99.99, only applicable if you want to continue using our Registered Office and Service Address to keep your residential address confidential and off Companies House public register. Also included is our Maintenance of Statutory Books Service and Preparation/Filing of Annual Return service.
What if I only need the company name and none of the other parts?
If you're looking to start trading immediately or very soon, then our Basic Package is the cheapest way to get up and running quickly and easily. However, if you want to open a bank account we recommend the printed package as most bank managers require this official documentation.

On, the other hand, if you simply want to secure your chosen company name for the future, then you can reserve it here.
I'm not sure what I need right now, can I buy the Basic Package and add other services to it later?
Absolutely, however the services will not be available at the discounted package rates.
I don't live in the UK, can I still open a UK company & bank account?
You can form a UK limited company regardless of your nationality or location.

A UK limited company must have a registered office based in the UK. Our Privacy, Comprehensive and Ultimate Packages all include use of our Registered Office Service for one year (you have the option to renew after this period), perfect for customers who do not have access to their own UK address.

Our International package is the ideal solution for overseas customers looking to form a UK Limited company. It also includes a 1 hour tax consultation with our UK Tax Experts who can also assist you with other professional services such as assistance with opening a UK bank account and online accountancy services (please note the cost for these services is to be arranged separately with our tax and banking partner). More information
What are my statutory and legal requirements once I start a Limited Company?
Limited companies are required to file annual returns and annual accounts with Companies House. If you choose the Comprehensive or Ultimate Package, we take care of the annual return for you.

You or your accountant will need to submit annual tax returns and company accounts to HMRC.

As a director of a limited company you must act in the best interests of the company and not necessarily yourself.
How much tax will I save by starting a Limited Company vs. being a Sole Trader?
This depends on your circumstances. You may find this Sole Trader v Limited Calculator helpful.
How do I get funding for my new business?
There are a number of options available when it comes to funding a business. These can be split into two categories; debt financing sources and equity financing sources. Debt financing sources would include banks, lease financing and trade credit. Equity financing sources would include venture capitalist companies and private individuals.More info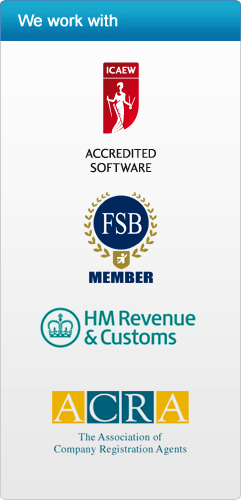 Outstanding service. The process was simple, provided detailed information, and our company has been incorporated in under 3 working hours. Very impressed, will definitely be using again, and will recommend to others.
This is the third company I've set up, but the first time I have used you guys. So much easier, I'll never bother trying to do it myself again - so simple.
You are my preferred supplier when forming companies for my clients. Very quick and simple which means I am able to offer a good value service to my clients. Thank you